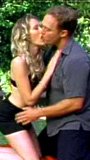 Young and Seductive (2004)

Directed by Lucas Riley
Writing credits Edward Gorsuch April White

Julian Wells.... Nina Jacobs
Robert Donovan.... Detective Max Connor
Alana Evans.... Elise
Dru Berrymore.... Mistress Sylvana

I saw this on cable the other night. Julian Wells is doing research on kinky sex habits. It turns out one of her subjects was strangled. This leads to sex. Then some more of her freaks turn up dead. This leads to yet more sex. Soon Wells will have a little more sex and, if she has time, possibly solve this case.
You know, for a movie about kinky sex, I didn't see anything kinky about it at all. Every sex coupling was one guy to one girl. You call that porno? Where's the group sex? Where's the girl/girl action? These were the chastest freaks ever.
Anyway, "Young and Seductive" is fairly lame. Dr. Wells should have found some better sex addicts to interview.
SCORE: 1.5 out of 4 Dr. Wells